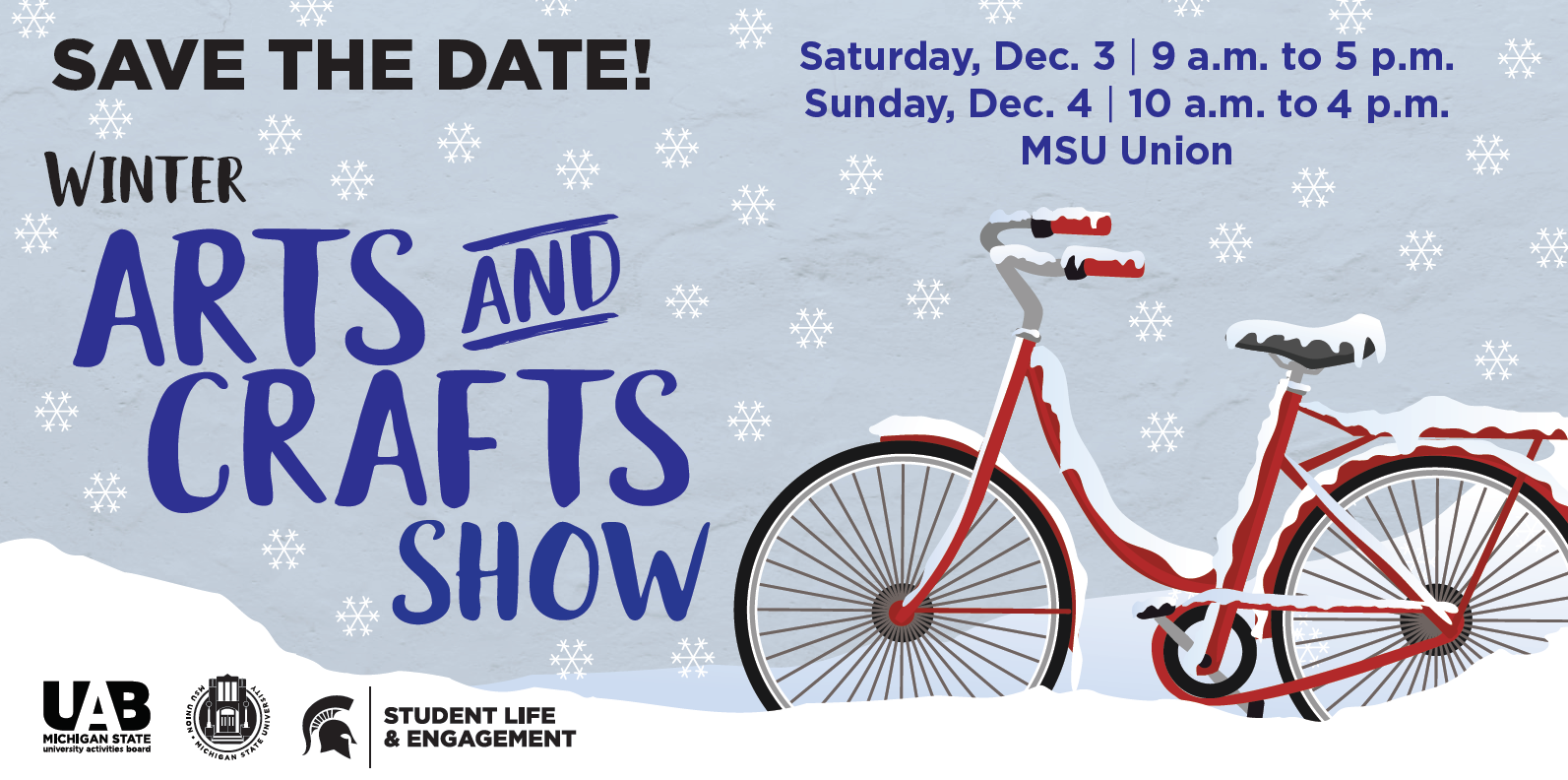 We are excited to host the 59th Annual Winter Arts and Crafts Show on December 3rd (9-5PM) to December 4th (10-4PM), 2022.
APPLICATIONS ARE NOW OPEN!
Artist and crafters can now apply to be a part of our Winter Arts and Craft Show. With 170 booths and an estimated 8,000 patrons, this event is a great opportunity to connect with the local community and share your craft.
The Annual Arts and Craft Shows are large fundraiser for UAB. All proceeds from booth fees go directly to UAB. UAB's goal is to provide opportunities for students to build connections, communities, and a sense of belong at MSU through fun and engaging events designed and implemented by our UAB Student Coordinators. Our fundraisers allow us to offer these events at low-cost, or more often free, to MSU students.
All applications are managed through Zapplication. Click Here to apply.
Show Information:
Saturday, 3 December 2022 | 9 a.m. – 5 p.m.
Sunday, 4 December 2022 | 10 a.m. – 4 p.m.
MSU Union, 49 Abbot Rd., East Lansing, MI 48824
Show Timeline:
Zapplication Application | Tuesday, 8 August 2022
Priority Deadline             | Monday, 29 August 2022
Priority Acceptance         | Monday, 19 September 2022
Application Deadline     | Friday, 11 November 2022
Welcome Packets           | Monday, 14 November 2022
Booth Information:
Single Booth: One 8' X 5' = $240.00 ($30 Application Fee + $210 Booth Fee)
Double Booth: One 16' X 5' = $480.00 ($30 Application Fee + $450 Booth Fee)
Storage: One 10' x 5' = $20 (non refundable)
Applications:
All applications are processed through Zapplication.
All communications will from UAB@msu.edu, from Sara Stratilatov (bartless@msu.edu) or through the Zapplication Portal
Only completed applications will be reviewed. Applications should included 7 or more photos, including 1 booth shot and 2 workplace photos.
Payment of the Non-Refundable $30.00 Application Fee Electronic Check (ACH) via Zapplication Online Credit or Debit Card via Zapplication Check (via USPS)
For Checks add $20 for processing

Make check Payable to Michigan State University
Mail: Arts & Crafts Show, 49 Abbot Rd, East Lansing, MI 48824
Application Fees & Storage Fees are non-refundable.
Booth Fees will be refunded as long as artists/crafters withdraw their application by Monday, 24 October 2022. Application fees and storage fees are nonrefundable.
Important Documents:
General Information
Rules and Regulations
Booth Map