Important Stuff For Your Room — Make it a Home Away from Home!
Residence Hall Carpet
You can have a perfectly sized, first-quality carpet waiting on campus when you arrive. The MSU University Activities Board has arranged a program called Residence Hall Carpets for the past 20 years. You get to reserve a brand new carpet in the right size and your favorite color at a special student discount. Carpet colors come in grey, black, beige, light blue, navy, and burgundy . All carpeting is first quality, plush, residential, brand new, and bound on all four sides.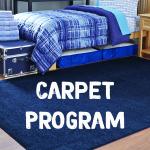 Need to know what size to order?  Check out this carpet guide. 
All carpets are Be Spartan Green certified, meaning they can be recycled at our MSU Recycling Center. By buying this recyclable carpet, you can help save the planet from piles of slow-deteriorating rugs in landfills.
Pre-ordered carpet rolls will be in your room waiting for you to place when you arrive on campus during move-in. You will receive order information for the Residence Hall Carpets program in July, visit msu.ocm.com/carpets or call 1-800-892-8729 as soon as you know your hall assignment to make sure you get your first choice.
Residence Hall Carpets
msu.ocm.com/carpets
1-800-892-8729